In 1984, The Goddess herself, Debbie Sharpe, began a catering company in London and very quickly made a name for herself as the premiere caterer in the area. In 1990, Debbie found herself catering shows across the United States for the one and only(s) Paul and Linda McCartney. After touring, she set up shop in Chicago and never looked back. Her business has since transformed into more than just catering and today Goddess and Grocer has seven locations throughout Chicago in addition to her catering company: Goddess Rocks!  
So, what is Goddess and Grocer? Goddess and Grocer is not just a restaurant or hub of a catering company, it's an all-in-one takeout deli, restaurant, gourmet market, and catering company– a concept that Debbie was an early pioneer of. In the early years, Goddess and Grocer was a unique concept that caught on like wildfire– not only for customers, but for local restaurateurs. In the beginning, Debbie had her unique restaurant concept to set her apart, but now she wanted to breathe new life into her brand to again stand out from the crowd.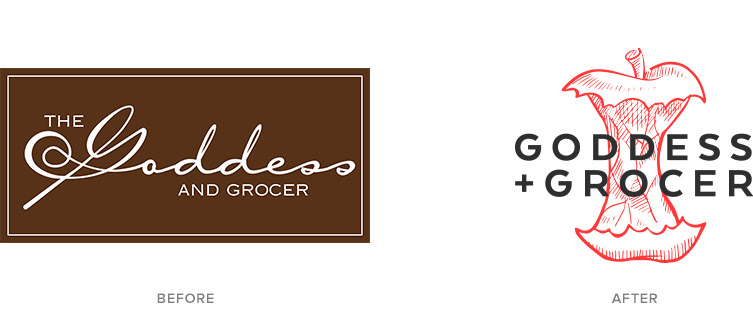 Unique in the beginning, The Goddess brand eventually needed a serious update. Something to reflect Debbie's wild yet sophisticated personality and trend-setting market restaurant concept. 
The challenge with the Goddess and Grocer rebrand was figuring out the best way to capture Debbie's wild and free personality as well as the sophistication and high standards of a gourmet deli and market. Everything on the Goddess and Grocer menu is handmade, painstakingly produced, and of the highest quality, so we needed to show that elegance all while maintaining Debbie's (aka The Goddess') fun and feisty personality. 
By pairing a strong, clean-lined serif with the look of a hand-sketched line drawing we could capture both worlds in a strong and cohesive brandmark. Both major parts of the Goddess and Grocer are represented here: the deli-restaurant with the apple core and the grocery bag for the gourmet market. The ability to change the line drawing background based on the branch of the business while still maintaining the strong brand presence makes this logo unique.


Additional Brand Elements

There is so much more to a full on restaurant, deli, gourmet market, and catering company that just a logo. Rolling the design aesthetic out to all of the ephemera that comes along with that was a blast. Bringing that same line-drawing style to the varying elements of the brand helps to soften some of the sharp edges that would make the design to stark otherwise.